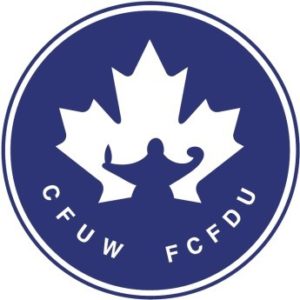 The Canadian Federation of University Women Brantford
TRUST AWARDS
funded by The CFUW Brantford Scholarship Fund
TRUST AWARD GOALS
to support female students who demonstrate vitality for living, enthusiasm for learning and intellectual curiosity about the world around them
to support female students entering or attending post-secondary education through grants of money
TRUST AWARDS
Applicants must be Canadian citizens or landed immigrants and residents of Brantford or Brant County.
GENERAL INFORMATION
a female student may apply for either
AWARD A:  SECONDARY SCHOOL ACHIEVEMENT   
AWARD B:  MATURE STUDENT AWARD
there will be a minimum of two awards given per year
each award will be worth a minimum of $600
applicants for AWARD A must achieve 83% or greater on six credits required for entrance to post-secondary education programs, but the final selection will be based on NON-ACADEMIC criteria as indicated on the Application Form.
NOTE:  Final decision on the trust awards will be determined annually by the Scholarship Committee of the Canadian Federation of University Women Brantford.  All applications will be destroyed after the selection process is complete.
THE CANADIAN FEDERATION OF UNIVERSITY WOMEN BRANTFORD
The Canadian Federation of University Women Brantford (formerly known as the University Women's Club of Brantford) was formed in 1946 by approximately 40 local women university graduates who were seeking opportunities for lively and stimulating discussion.  These aims and objectives remain, but the organization – which has approximately 80 members – has added greater focus on the community by actively supporting local cultural activities, by promoting social/political activism through the hosting of all-candidates nights and campaign schools for women and by awarding scholarships to young women pursuing post-secondary education.
Founded in 1919, the Canadian Federation of University Women (CFUW) is a national, non-profit, non-governmental, women's equality-seeking organization of close to 10,000 women graduates, students and associate members in 112 Clubs across Canada (www.cfuw.org).  CFUW clubs can be found in all provinces.
CFUW is the largest of the 62 affiliates of the Graduate Women International (GWI formerly known as International Federation of University Women) which has approximately 140,000 members.  This organization was also founded in 1919 by women who, after the horrors of the First World War, believed in working together for peace, international understanding and friendship.  GWI's four priority action areas are education for the girl child, adult literacy for women, access to and the advancement of women in higher education, and empowering women to be leaders and decision makers (www.graduatewomen.org).
SOURCES OF FUNDING FOR THE TRUST AWARDS
A portion of each member's annual dues.
Special events. Over the years these have included Author presentations and associated book sales, our Trivia Nights, a concert and tea.
Private and memorial donations.
Invested funds from the sale of our book Significant Lives.
SIGNIFICANT LIVES – Profiles of Brant County Women
Significant Lives celebrates the lives of 40 women who have left their mark, in some way, on the local, national and sometimes international scene.  These individuals excelled in wide-ranging endeavours involving the arts, literature, sports, business, medicine, education and philanthropy.  The book, launched on December 4th, 1997, was the 50th anniversary project of the University Women's Club of Brantford.  The book sold out quickly and unfortunately is no longer available for purchase.  Money generated from the sale of the book continues to sustain our CFUW Scholarships.
Mailing Address:
PO Box 26028
260 St. Paul Ave
Brantford, Ontario
N3R 7X4